Graphics
Send us your designs and we sublimate them into our top end materials.
Step 1 - You design your graphics. Any number of colors, any design
Step 2 - Send us your files via e-mail or on CD (see below for specs)
Step 3 - We sublimate your graphics onto top of the line glossy Foliplast topsheets or sintered bases.
Step 4 - Build your board with fully professional graphics
Shown Below: graphic being printed on Dye Sub paper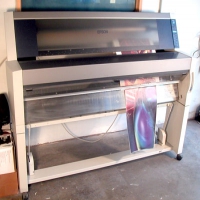 Shown Below: Topsheet with freshly sublimated graphic
The fine print:
We recommend you design your graphics in Illustrator, Photoshop, or Coreldraw full size at least 200 dpi and send us the disk (or email the file if it is under 10megabytes). If your file is too big you can save it as a JPEG at high quality to reduce the size. We do not guarantee hitting pantone colors exactly but get pretty close usually.
Any number of colors is fine (art, photos etc are OK) - you simply design the graphic in whatever program you have and save it in one of the above formats - NOTE: it is preffered that you use RGB color space (If you do not know what that is, we will convert your file automatically, but colors can shift a bit if you did not design in RGB.)
IMPORTANT!!!! - Snowboard Materials shrink when we sublimate the image, so your graphic needs to be oversized! We recommend designing your graphic rectangular in shape approximately 13" (33cm) wide by approximately 3" (8cm) longer than your board size to allow for shrinkage and bleed. Topsheet graphics usually shrink about 2 - 3 cm in length and 0.5cm in width. For example: a 156 snowboard should have a graphic size of approximately 164cm (156cm plus 3cm bleed plus 3% oversize for shrinkage) This will make it easy for you to fit on your board when laminating because it has lots of bleed, and will also allow for the shrinkage when we sublimate.
Base graphics should be about 10cm longer than your final image size! Base graphics will sometimes shrink as much as 10cm in length and 1.5 cm in width from your original file size. This is due to the plastic shrinking after being heated.
Cost is $42 including material for topsheets and $47 for bases including a white flood coat behind the graphic, Price assumes we do not have to work on your file. If we do, we will contact you with a quote
Turnaround is typically 2 weeks - email us first for firm dates