Need more capacity in a limited space? Don't have the budget for 2 separate presses? The IF-3000 DC/LC is the answer. The IF-3000 DC/LC is our top of the line dual cavity ski and snowboard laminating press.
It is for the demanding user that the needs the utmost capacity. Press 2 snowboards or 2 pair of skis at the same time in the same press. This press is our most fully featured dual cavity production laminating press that is based on the presses Lindsay designed for Powderstick Snowboards, Option Snowboards and dozens of other companies since the mid 1980's. It features heated top and bottom forms that are controlled by a digital PID control unit that allows various ramp and heat cycles to be programmed or simple set temperature operation.
The daily capacity of the IF-3000 DC/LC is dependent on the operating temperature and the cure time of the resin system used. Typically this is 6 - 8 boards per hour (3-4 per cavity) or 4 - 6 pair of skis hour ( 2 - 3 per cavity) based on 60-70 degree C temperature using the Action Sports Extreme epoxy system and depending on the complexity of the layup. Other epoxies will vary in terms of cure time and can allow faster or slower cure cycles and resin pot life.

This machine features an all steel I-beam "Lift Cylinder" frame design (hence the LC designation) that enables us to make a very stiff, high performance frame when space and weight are not as much of a concern. The Lift Cylinder frame design allows the operator to lift the top beam up approximately 75mm in addition to the normal cavity opening when not inflated to allow super easy cleaning, loading and adjustments. This is where the LC design shines, as often times loading, cleaning, maintenance and size adjustments can take a lot of time. The lift cylinder design allows easier access and saves time in all these areas.
The IF-3000 DC/LC ski and snowboard press features an all pneumatic "air bladder/caterpillar track" top form assembly for unlimited ski or board thickness profiles, adjustable length, various camber and rocker profiles and more (1 rocker/camber profile included, others can be ordered).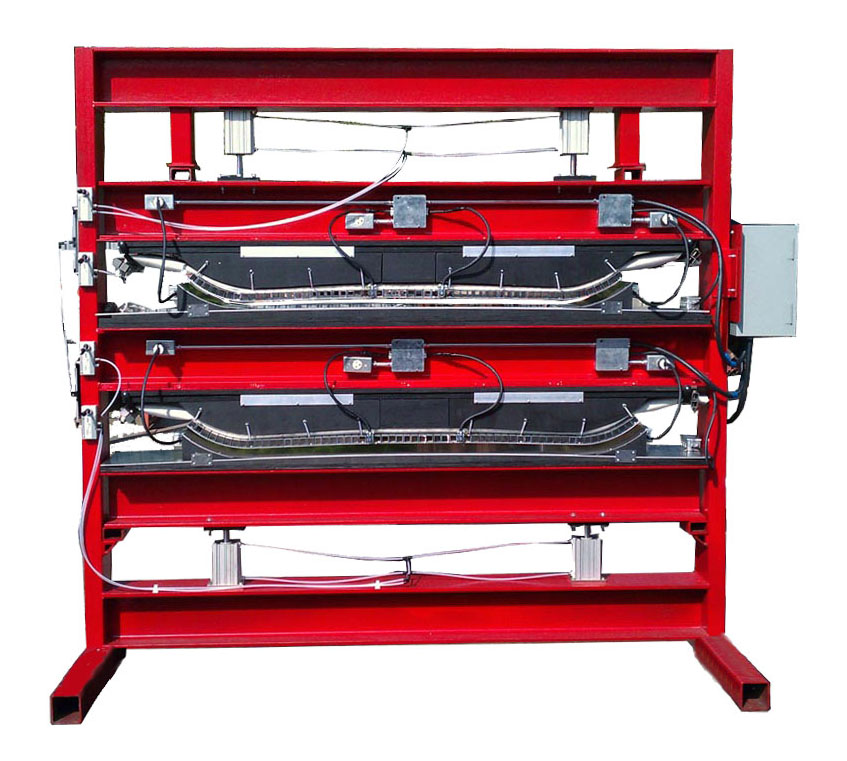 Standard Specifications (we can build to other specs please inquire):
Dual cavity design - press 2 snowboards or 2 pair of skis at once

All steel "Lift Cylinder" I-beam frame design that opens up for easy loading, cleaning and maintenance on each cavity

Adjustable for different lengths (standard from 140cm to 175cm - other size ranges available)

Heated all aluminum top and bottom forms

Digital temperature control

Modular tip, tail, and camber/rocker "form blocks" can be interchanged for different profiles (steep/mellow nose and tail, camber/rocker/hybrid etc)

355mm standard width (other widths available)

All aluminum "caterpillar track" top form assembly works as a flexible caul plate for unlimited thickness profiles

dual 600lb burst air bladders

220v single phase 45 amps - other configurations available

96" long x 40" wide x 90" tall x approximately 2200lbs in standard form
Typical 220 volt single phase configuration $20,995. Other options, custom dimensions and International electronics are available, please inquire.
Note: our machines are not UL rated. We use use UL, CE and CSA components throughout but do not represent the machines to be certified as UL rated or otherwise.