It is suitable for both the medium volume production user and advanced hobby/enthusiast DIY ski and snowboard builders. The TF-2000 is a heated press design based on our more advanced press designs, but featuring a smaller lighter frame and slightly lower power heating for use in smaller locations where higher amperage power may not be available.
The daily capacity is dependent on the operating temperature, and and cure time of the resin system used. Typically this is approximately 2 boards per hour or 2 pair of skis per hour (assuming a 2 at a time ski press design, we also make single ski presses). Press efficiency especially when laying skis can be increased with 2 people, as it takes longer for an operator to lay up 2 skis than 1 snowboard.
This machine features our unique triple "Tube Frame" design (hence the name TF) that enables us to build a stiff but relatively small and lightweight frame so the press can be used in small workshops and workspaces. The TF-2000 can even be used in your basement or garage provided you have adequate electricity (see specs below).
The TF-2000 ski and snowboard press features an all pneumatic "air bladder/caterpillar track" top form assembly for unlimited ski or board thickness profiles, adjustable length, various camber and rocker profiles and more (1 rocker/camber profile included, others can be ordered).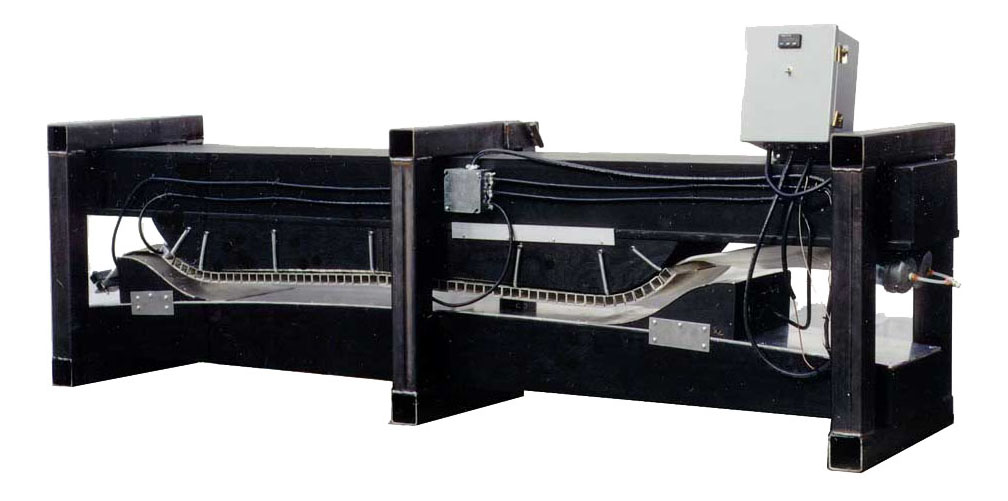 Standard Specifications (we can build to other specs please inquire):
Advanced digitally controlled heating system on the bottom form

Typical operating temperature from 140F to 180F (60C to 82C) - we can supply different heater specifications

Unique triple "Tube Frame" structural steel tube frame design

Adjustable for different lengths (standard from 140cm to 175cm - other size ranges available)

Modular tip, tail, and camber/rocker "form blocks" can be interchanged for different profiles (steep/mellow nose and tail, camber/rocker/hybrid etc - one profile included others can be ordered at additional cost.)

330mm standard width (other widths available)

All aluminum "caterpillar track" top form assembly works as a flexible caul plate for unlimited thickness profiles

dual 300lb burst air bladders

available in 120v 15 amp configuration for operation where 220v is not available, or 220v 20 amps+ configurations for increased temperatures and rapid heat up times.

93" long x 28" wide x 30" tall x approximately 550lbs in standard form
Typical 220 volt single phase configuration with bottom only heat $5995. Other options such as top/bottom heat, custom dimensions and International electronics are available, please inquire.
Note: our machines are not UL rated. We use use UL, CE and CSA components throughout but do not represent the machines to be certified as UL rated or otherwise.